Due to COVID-19, Art Gym is closed until it's safe for us all to gather, share and make art together.
Art Gym is an alternative to private studio space.
Instead of committing to a lease or renting a private studio, artists can join Art Gym's shared workspace for a monthly membership fee. Our shared workspace keeps costs low and puts artists in a creative environment where others are making art in a variety of disciplines.
STEP 1
Join Us! Become a member
Access Art Gym's shared workspace for a membership fee of $50 – $100/month, depending on the membership level that best fits with your needs. Members have access to our painting studio, mixed-media studio, performance studio, commonspace area and digital lab or, if qualified, can access our printmaking studio or metalsmith lab. Whatever your medium, there's a place for you–come see for yourself!
STEP 2
Book On-Demand Equipment and Workspaces As-Needed
As a member, you receive access to discipline-specific equipment and workspaces. These are offered on-demand so you can reserve the equipment you need, and only pay for what you use. Find out what we have available for your artistic needs!
STEP 3
Make Art and Enjoy Member Benefits
Receive a 15% discount at our in-house café and savor local food and snacks, plus free coffee for members all day every day! Book a quiet room for meetings with clients, even use our workspace to teach your own classes. Our gallery program includes members-only shows twice a year, exclusive access to community display areas, and monthly shows by seasoned and emerging artists. Come create with us!
I joined Art Gym to place myself within a community of professionals to further my own explorations within printmaking. I have never worked within a communal studio before, honestly the best surprise for me so far is how much I have enjoyed being an active member within this community, seeing the reflections day to day of not only my work but the work of so many other members has been deeply inspiring and wholeheartedly fulfilling in regards to the idea of working within a community.
As soon as I was welcomed as a member of Art Gym, I started spending 8-16 hours there every week.  I immediately loved how open and beautifully lit the space was, how it promotes such an easeful work flow, how kind, welcoming, supportive, and inspiring the people are here, and how much accessibility I have to quality tools I'd otherwise have no opportunity to use.  This space has facilitated exponential growth in my artistry and my personal business.  I have somewhere to dedicate work time, that is clean, that I can afford, that puts me in contact with other amazing artists and people, and allows me to further my passion and produce art to the maximum of my capability and desire.  I needed this.  It saved my life as an artist, or at least... saved me a lot of years trying to figure it all out.
Hillary Muramoto,
Metalsmith
I joined Art Gym in October of last year. I am a pet portrait artist, and when my business started taking off, I realized I needed a studio space outside my home. Art Gym has provided a beautiful workspace, but so much more. Being surrounded by other artists is so inspiring, and I love the opportunity to be a part of an artistic community.
Rachelle Albright,
2D/Paint and Draw
I love the artistic and supportive community that is Art Gym!  I'm able to focus on my work, connect with other artists, grab lunch, laugh, and be inspired.  What could be better?
Ingrid Porter,
2D/Paint and Draw
I love the community here -- the support from others, the mutual interest in each other's projects, the friendships that have developed over the 2 years since I joined.  When I enter the building and the space is crackling with people's creative energy, that charges my creativity.
Eric Porter,
2D/Paint and Draw
"I like the opportunity to create and work where other people are around. I like the people you can meet here, because of the variety of artists that are at the gym. What I like most is that the Art Gym is promoting community. What I look forward to, hopefully in the near future, is to develop critiques of my projects. Its always helpful to have input on in-process work."
Judith Bergquist,
2D Paint/Draw
My introductory visit to ArtGym was filled with surprise and excitement, dispelling any misgivings I may have had about a community work space. As a new member and being a printmaker, I was thrilled to be offered complete printing facilities and presses. The community of artisans is supportive and positive, helping to develop a creative environment to work and learn in. The deciding factor to move to ArtGym was the price. A full year of membership and facility use at ArtGym equaled one month's rent at my former commercial retail studio space. There are no maintenance fees or taxes, just an creative environment free of the endless chores of maintaining a retail location.
Leon Loughridge,
Printmaker
As a graphic designer and painter, I thought it was unrealistic to find an affordable office space to work for both pursuits. The Art Gym turned out to be the perfect solution. It provides a beautiful space, accommodating hours and a supportive community, not to mention the perk of free coffee.
Mackenzie Schmidt,
Graphic Designer and Painter
"The community that Art Gym has created, where artists practicing different forms of art, have all come together under one roof, is truly unique and inspiring for us. The Makers Kitchen is truly representative of this. We are so glad to be part of this diverse creative community that inspires and motivates us every day."
Subhash and Jyothi,
Nummy Nibbles, Makers Kitchen member
I love that Art Gym creates a space for 'makers' to thrive and be supported–so different from a typical commissary kitchen environment!
Damaris Graves,
Culinary Artist, Cultura Craft Chocolate
Every artist needs a community of like-minded creatives and I find the Art Gym to be a great fit and very welcoming. The screen printing area is a perfect for my current art practice needs and it is outfitted with professional equipment that I don't own in my private studio.
Patricia Aaron,
Printmaker and Encaustic Painter
After I took a class at Arapahoe Community College, my instructor directed me to Art Gym, and it turned out to be exactly what I needed. Since I have become a member of Art Gym, it has broadened my artistic horizons in so many ways.
Laura Schneider,
Metalsmith Artist
The space is beautiful and inspires creativity. As I watch others create I am drawn to trying new ways to create my own art. It is a welcoming place that I am happy to have found. The Art Gym is a wonderful community to be a part of.
Kelly Austin-Rolo,
Encaustic Artist
UPCOMING EVENTS
Upcoming Events
Upcoming Events
Events List Navigation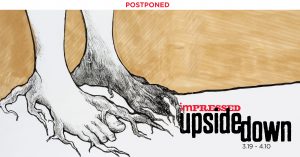 POSTPONED Due to COVID-19, this exhibition and it's programs are postponed until further notice. Art Gym Gallery is so thrilled to present Impressed: Upside Down, the fourth in a series of national juried printmaking exhibitions in the Art Gym Gallery. Join us for an opening reception on March 19 from 5-8PM. Impressed: Upside Down brings together works from 30 artists across the country. The work is tied together by the strange and often surreal idea of everything being connected. Plants,…
+ Export Events
SCHEDULE A TOUR
Art Gym is best experienced in person. Fill out the form to schedule a tour and see for yourself! Tours are offered Monday – Thursday 10am-9pm, Friday 10am-6pm and Saturday-Sunday 1-6pm. Please tell us your preferred day and time in comment box.